Stephan Sandness, Senior Pastor
Pastor Stephan began his ministry at Our Savior's Lutheran Church in 2013. A 1990 graduate from Luther Seminary in St. Paul, Minnesota, Stephan first served in Gillette, Wyoming. In 1994 through 2012, he served congregations in southeastern Minnesota and southwestern Wisconsin.
Send Pastor Stephan an email
---
Laura Lee Campbell, Deacon
A graduate of Augustana College, Laura began her career as a high school teacher, but in 1996, she joined the staff of OSLC. She has served primarily in the areas of pastoral care and volunteer coordination.
Following her first career as a secondary and post-secondary teacher, Laura joined the OSLC staff in 1996. She is a graduate of Augustana College and Wartburg Seminary. At OSLC, she has served primarily in the areas of pastoral care, program administration, and volunteer coordination. Laura invites folks into a deeper spiritual life through small group and Bible study.
Send Laura an email
---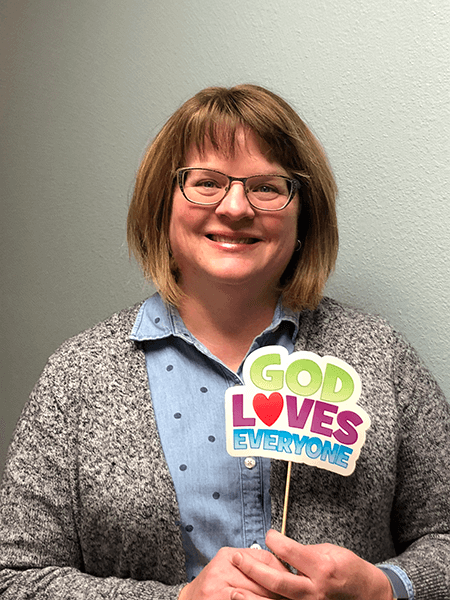 Beth Nielsen, Director of Children's Ministries
Beth has served on the OSLC staff since 2013, supervising our efforts to provide a Christian education for our younger children. She is originally from the Sioux Falls area but has called Spearfish her home since 1990. Beth is a 1999 graduate of Black Hills State University.
Send Beth an email
---
Chris Blain, Lay Minister of Youth
Chris has been assisting with our middle school confirmation ministry since 2012. A graduate of St. Olaf College and Luther Seminary, Chris first served OSLC as Associate Pastor from 1990 to 1993, before moving to Minnesota. Since that time, his calling has led him to certification as a middle school teacher. He returned to the Black Hills and splits his time between the Spearfish Middle School and OSLC.
Send Chris an email
---
Julie Lee, Office Manager
Julie has been overseeing the day-to-day administrative functions of our church office since 1996. She manages the financial realities of our ministry, stewardship, membership, correspondence, and our website. Julie is a Spearfish native and life-long resident of the area.
Send Julie an email
---
Lisa Williams, Receptionist/Secretary
Lisa joined the OSLC team in December of 2009, coming to us from California. Anyone who contacts us via the phone will most likely talk to Lisa first. Lisa is the "point person" for most of our printed communications: worship bulletins, monthly newsletters, video screens for worship, and more.
Send Lisa an email
---
Carissa Deming, Senior Choir and Bell Choir Director
I graduated from BHSU with a degree in Vocal Music, a minor in TESOL (Teaching English to Speakers of Other Languages), and a certificate in piano pedagogy in May 2020. Currently, I work at BHSU for the TRIO Student Support Services program as a Professional Advisor, and I absolutely love it!
---
---
Joyful Journey Team Leader
.
---
Derek Hayford, Custodian
Derek joined the OSLC staff in August of 2019. Derek keeps our building spiffy, working to make it a welcoming place.
---
OSLC Council
President: Andy Binder

Vice President: Deming Haugland
Secretary: Nichole Braithwait

Treasurer: David Pummel
Other Members:
Linda Easthouse
Brady Harr
Karson Klein
Sherry Kloeckl
Christina Miles
Mathew Ornelas
Mike Steffen
Pam Tyma